MUMBAI: A staggering 64% of Covid-19 victims in Mumbai and its neighbouring corporations have succumbed to the disease within 48 hours of hospitalisation, a recent analysis of 15,756 deaths from the
Mumbai Metropolitan Region
(MMR) has revealed. Deaths within 48 hours mean either a delay by patients in seeking care due to ignorance, fear, or the possibility of a late or missed diagnosis, say experts. Worryingly, the incidence of 48-hour deaths continues to be as high as it was at the beginning of the pandemic.
The death audit committee found that in 10,064 cases out of 15,756 audited from MMR, death occurred within 48 hours of admission. MMR, which includes Mumbai, Thane, Navi Mumbai and six other corporations, collectively comes under the Mumbai circle and accounts for 43% of Covid-19 deaths in Maharashtra and nearly 15% in India. The finding has particularly come as a surprise given that MMR boasts of a superior medical infrastructure and manpower availability compared to most other regions of the state. In terms of awareness too, it's considered to be better off.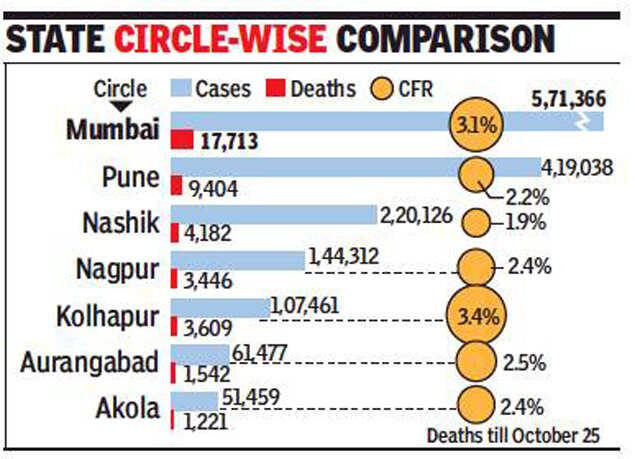 Former KEM dean Dr Avinash Supe, who heads the audit committee, said the high incidence of 48-hour deaths has shown no signs of declining even as the pandemic is sevenmonths old now. "Initially, people were coming late with a bad disease when Covid-19 was new. Now, we think the predominant factor is fear and reluctance to get tested," he said, adding that reasons for delayed care seeking has changed over the months, but the incidence has remained the same. Dr Supe strongly urged people to seek treatment at the earliest rather than waiting at home. "Particularly, those who are above 50 and have a history of diabetes, hypertension and obesity," he said.
The review found that 12,398 (79%) of the deaths occurred in people above the age of 50 years, while 2,015 (13%) fatalities took place among 41-50-year-olds. There were 77 deaths in children below ten years and 93 in those between 11 to 20 years. "The combination of age and comorbidities is lethal. A delay in seeking treatment can diminish the chances of fighting the disease significantly," said physician Dr Gautam Bhansali, who consults with Bombay Hospital.
Further, the MMR numbers for 48-hour deaths seem to be much higher than the state average. TOI had previously reported an analysis of 37,457 deaths, which showed 27.5% occurred in 48-hours. Public health activist Dr Anand Phadke said that while lack of awareness could be a key reason given that the disease is understood and managed better now, the problem in rural aeras could be of accessibility. "Many from districts like Ratnagiri and Sindhudurg have to travel all the way to JJ Hospital. Such factors could add to delays too," he said. Dr Pradeep Awate, state surveillance officer, said that a similar review was being carried out for the other six circles, including Pune, Nashik, Nagpur, Kolhapur, Aurangabad and Akola.