MUMBAI: A day after the
Maharashtra government
issued a notification withdrawing its general consent to the Central Bureau of Investigation, state home minister
Anil Deshmukh
said the decision was taken as the premier agency "was being used to settle political scores and there was suspicion that just like in the past, the TRP scam case, being investigated by the Mumbai police, may be handed over to the CBI."
"CBI is a professional agency, but of late it has been used to settle political scores. A complaint in the TRP case has been registered in UP, and it is rumoured that due to political pressure, there could be an attempt to combine all the cases and to give them to CBI. To prevent misuse of the general consent, we decided to revoke it," Deshmukh said. He said there have been instances where the Supreme Court, in some of its judgements, has taken objection to the CBI's ways of functioning. "They have been called 'caged parrots' by some SC judges. This shows that these agencies are being misused," Deshmukh said.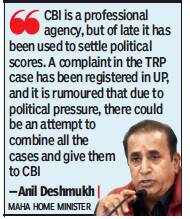 The Maharashtra government had issued general consent to the CBI in 1989. The Sena-NCP-Congress government's withdrawal has marked an upping of tensions with the Centre.
"With the withdrawal, CBI cannot probe any cases in Maharashtra without prior consent of the state," Deshmukh said, adding that a few other states like Andhra Pradesh, West Bengal and Sikkim, too, had issued such orders.
The CBI on Tuesday took over the probe in the TRP case lodged in Lucknow on the recommendation of the UP government.
Shiv Sena leader Sanjay Raut said the state government had to take a decision to withdraw general consent to the federal agency as it was seen that the Centre was interfering in matters pertaining to Maharashtra. "Many states have already issued such orders, Maharashtra's patience was tested, and it has much later issued such an order," Raut said.
Ongoing investigations such as the one in the Sushant Singh Rajput case, however, will not be impacted by the state's notification as it cannot be applied retrospectively.
The state's public works minister Ashok Chavan had told TOI on Wednesday that the general consent had been withdrawn because of apprehension that the TRP case would be taken over.