MUMBAI: From January, devotees will be able to reach Jivdani
temple
, located on a hill in Virar, in just three minutes via passenger funicular rail service. A commissioning certificate for the funicular ropeway has been issued, paving wray for the final trials.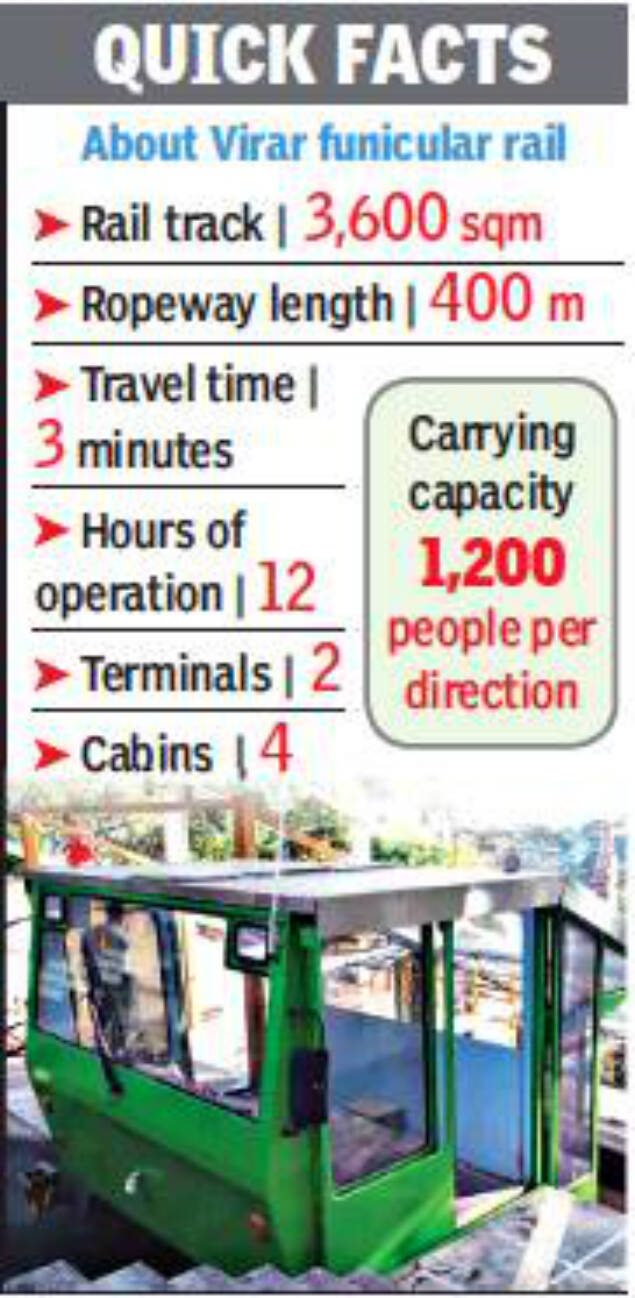 Funicular rail, also known as inclined plane or cliff railway, is a type of cable-drawn railway to transport people up steep slopes. A pair of cars are pulled up a slope by a cable; while one vehicle ascends, the other descends, thus counterbalancing each other.
RITES officers visited the site between November 8 and 10 and carried out the technical audit. Based on their report, the rail service has been permitted to carry 101 passengers (70kg per person) at a maximum speed of 1.3metre/second.
The project costing over Rs 32 crore is being funded by the Shri Jivdani Devi Sansthan Trust. It aims to reduce the travel time from 45 minutes via around 1,375 steps to just three minutes. Devotees currently use a ropeway to reach the temple and back for Rs 150.
"The trial runs were delayed due to the lockdown. The environment-friendly, nonpolluting transport system should be available for devotees by January," said Vasai MLA and president of the trust Hitendra Thakur. The funicular rail fare has not been fixed.
As the temple, located around 1,500ft above sea level, opened its doors for devotees from November 16, it also commenced trial runs in a big way. While RITES officials found the load testing, electro-mechanical safety systems and operational strategy in place, a few technical specifications are still to be put in place before the rail service, which will cover an aerial distance of 400m, is functional.
In January, two workers died on the site after losing balance and rolling down 15 feet along the steep track.