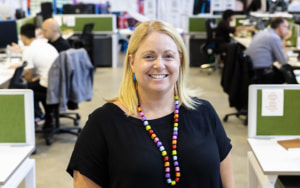 Conversational artificial intelligence (AI) agency VERSA has announced its expansion into India.
The Australian-founded agency hopes to capitalise on demand for specialised conversational strategy and design in a market with a population of more than 1.3 billion people, and an installed base of nearly a billion mobile phones.
VERSA India will be a 50/50 joint venture between VERSA, which is headquartered in Melbourne and has US operations out of Seattle, and Mogae Consultants, owned by Sandeep and Tanya Goyal.
Dr. Sandeep Goyal, is a well-known advertising and media veteran who has been a past president of Rediffusion, ex-group CEO of Zee Telefilms and former founder chairman of Dentsu India.
Tanya Goyal has been a six-term member of the Governing Council of the Advertising Agencies Association of India (AAAI).
Tanya Goyal will be VERSA India's chairperson.
Ashish Dabral, an ad industry veteran, will be the CEO of the Indian venture.
VERSA Asia business director Adi Sharma will head up business development out of Delhi.
Sunando Bannerji, formerly of WPP's GroupM and Star TV, will head revenue out of Mumbai.
The venture will utilise VERSA resources from Australia, the US and Singapore to complement its own Indian-based resources, sales team and P&L capabilities.
VERSA CEO Kath Blackham says the expansion would create opportunities for the Australian business to build a significant Indian operation and fill a gap for conversational AI and voice expertise in the multilingual country where low cost smart speakers such as Amazon Alexa, and mobile Google Assistants are already very popular.
"Many tech companies in India have the experience to build platforms such as websites, chatbots and apps but lack expertise in conversational strategy and design," Blackham says.
"We will leverage our established relationships with Amazon, Microsoft and Google to improve customer experience and make lives better by giving the Indian community access to information they traditionally would not have had.
"This partnership will give our Australian operation access to a much bigger market, including the ability to trial projects at scale. We look forward to working with Mogae's experienced team to support our global clients and partners."
Tanya Goyal says the venture reversed the traditional outsourcing paradigm, with India outsourcing tech development and specialist consulting services to Australia and the US.
"Yet, we will have enough local capabilities to cater to client requirements in the domain of voice 'skills' and more," Goyal says.
"VERSA India will focus on creating conversational experiences that help streamline customer experience teams and developing solutions such as contact centre AI bots, websites and apps that have a foundation of conversational AI built in.
"We will be working closely with big brands in India to help them realise the potential of conversational AI and voice and how they can best infuse the technology within their organisation.
"It is an exciting time for voice and conversational AI in India, and we look forward to helping established and well-known Indian brands embrace these emerging technologies for the Indian market."
VERSA's expansion into India follows the successful launch into the US market close to a year ago.
"Since we launched VERSA into the US market, we have been experiencing great success working with well known organisations and brands including American Red Cross and Pampers, both of which recognise the power of conversational AI as part of their overall marketing strategies," VERSA USA president Russ Whitman says.
"Our expansion into India is testament to VERSA's exceptional capabilities and we couldn't be more excited about the partnership with the Mogae."
The VERSA India operations launched post Diwali, but will go commercial live from early 2021.
Have something to say on this? Share your views in the comments section below. Or if you have a news story or tip-off, drop us a line at [email protected]
Sign up to the AdNews newsletter, like us on Facebook or follow us on Twitter for breaking stories and campaigns throughout the day.