MUMBAI: The
BMC
has identified a 5,000 sq ft civic space in the eastern suburbs to create a central storage facility for
Covid-19 vaccine
. The nod for the allocation came through on Monday, said civic officials.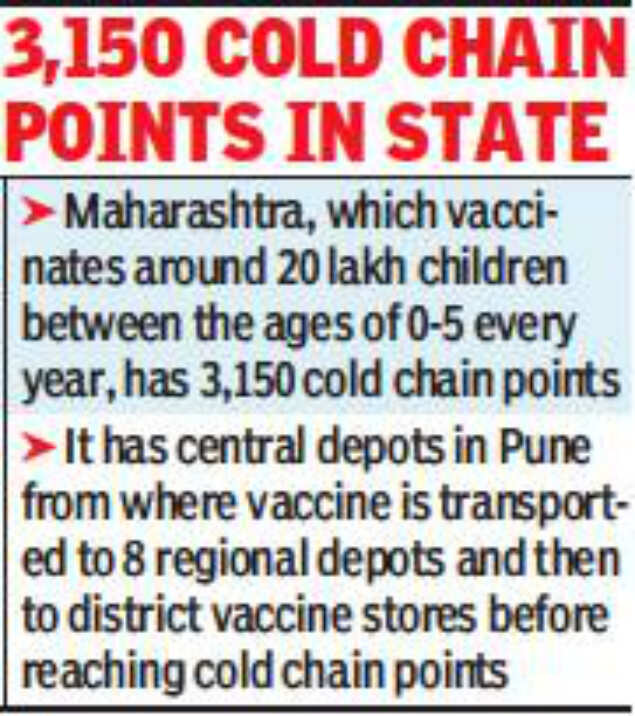 Suresh Kakani, additional municipal commissioner, confirmed BMC has earmarked a five-storey building of which two floors would be dedicated to vaccine storage. It would be expanded, if needed. "We have an elaborate cold storage chain in medical colleges and dispensaries. However, as part of preparedness, we have decided to keep a bigger facility ready so that there are no last-minute concerns," he said. Depending on the type of vaccine that arrives, the storage conditions would be readied, he said.
While the civic body had already compiled data on one lakh healthcare workers in public hospitals who will get the vaccine, it is in the process of collecting details from private health facilities. A mammoth exercise to create a state database of healthcare workers is currently underway in Maharashtra, where the name, age, PAN details, among others, is being uploaded into an online system. "The database will hopefully be ready by the end of this month or early December following which we will have an estimate of the total number of beneficiaries," said Dr DN Patil, state immunisation officer.
In terms of capacity building, a civic official said that the state has also assured it will provide the corporation with ice-lined refrigerators that will be placed in ward offices. The state, on the other hand, has been promised six walk-in coolers, two walk-in freezers, 150 ice-lined refrigerators and 100 deep freezers by the Centre.
"The preparations are largely broad-based as of now since there is no clarity on what kind of storage temperatures would be required or what volumes we are looking at," said a civic official. Dr Patil said the state's vaccine cold chain facility can support temperatures in the range of 2-8 degrees C. "For polio vaccines, we have storage that can support up to -20 degrees C," he said.
A senior doctor added that storage temperatures for most of the vaccine frontrunners are likely to pose a challenge. While the Oxford-AstraZeneca vaccine can be stored between 2-8 degrees C, the Russian vaccine Sputnik requires -18degrees to be stored in a liquid form, although its freeze-dried form can be stored between 2-8degrees C," he said. "The Pfizer vaccine reportedly needs to be kept at -70 degrees which most countries may struggle to achieve," he added.
Dr Shashank Joshi, a member of the Covid task force said storage conditions are likely to vary from vaccine to vaccine and that will pose a unique challenge.