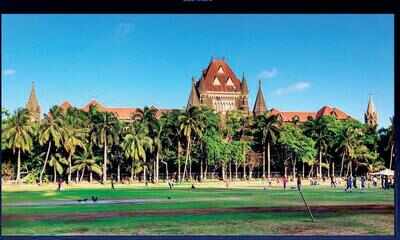 Bombay High Court
MUMBAI: Bombay high court on Friday canceled four provisional admissions granted to NRI candidates by Jamnalal Bajaj Institute of Management Studies (JBIMS) in supernumerary seats of Master of Management Studies course for 2020-21.
"We find there is something seriously wrong. It leaves a bad taste. Its like playing with students' future,'' said a bench of Justices Suresh Gupte and Surendra Tavade. They quashed and set aside the NRI merit list partly and directed these seats must go to four waitlisted candidates of Children of Indians Working in Gulf Countries (CWIGC) category, including Suresh Bhoite and Gaurav Thakur, who moved HC, saying the college illegally created a separate NRI category.
Supernumerary seats are maximum 15% of and over and above the sanctioned intake of 120 seats. Of these 18 seats, one-third (six) seats are reserved for CIWGC and two-third (12) for OCI/PIO/foreign students, or as prescribed by All-India Council for Technical Education. The information brochure states that if seats are vacant they shall be filled from either category.
Six seats were filled in CIWGC category and the petitioners were waitlisted at serial 9 and 10. Only two seats were filled in OCI/PIO category. The petitioner's advocate, Atal Dubey, had argued that JBMIS split this category into two and published a separate list for NRI candidates. It granted provisional admissions to six NRI candidates and showed admissions from 7-10 as against OCI/PIO category.
JBIMS's advocate P M Palshikar initially said if seats were vacant they can accommodate NRIs, but conceded there is no NRI category. The judges said a proviso to admission rules mandate AICTE approval to give seats to NRIs. In their order, they noted, "The petitioners' grievance seems to be legitimate. There is no justification for declaring a merit list of NRI students despite there being candidates available from CWIGC and, that too, without seeking approval from AICTE for NRI seats."
Further, only when vacant OCI/PIO seats are allotted to four waitlisted CWIGC candidates, JBIMS could fill further vacant seats from NRI subject to AICTE's approval.
Told that admissions not finalised in any category, the judges canceled NRI admissions from 7-10. They said the waitlisted petitioners are entitled to be allotted seats, as also candidates at serial 7 and 8. If the latter do not accept the seats, they may go to NRI candidates subject to AICTE approval. Even the first six NRI admissions need AICTE's nod, they added.
FacebookTwitterLinkedinEMail